We have updated Gazespeaker today with the 1.4.0 version update, with the following features:
added notes explorer and viewer/edit
added blink support
added F3 function key to block the clearAll cell
added action to open keyboard text entry in notepad (example in activities grid)
added action to launch an external program (example in activities grid)
redesign of settings screen with 2 tabs
updated focus support in settings and grid editor screens
create and edit Notes with your eyes
This is a great new feature in Gazespeaker: you can now create as many notes or texts as you wish, save them and retrieve/edit them later, only with your eyes.
There is now a new icon (My Notes) in the main grid: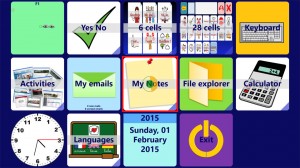 When you activate the My Notes icon, the "Note explorer" grid  is displayed, with a list of notes plus an "add Note" button: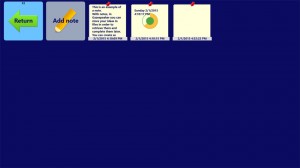 You can select the note or create a new one, in the "Note viewer" grid: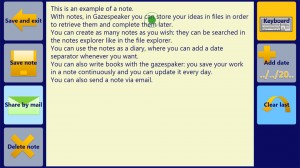 you can edit the note with the keyboard, add date separators (this can be useful in a diary for example), share this note by email.
Notes are automatically saved when you exit this grid.